Windows and doors to elevate your every day
Known to challenge industry standards, the Marvin Family of Brands strives to push design to its limits in aesthetics, function and durability. Our products are preferred for new construction, remodels and replacement projects when compromise isn't an option.
New Styles for Classic-Craft American Style Collection Shaker-Style Doors
Discover a wide range of relaxed entryway styles created with premium flat profile divider bars and Shaker-style doors within the Classic-Craft American Style Collection. The portfolio expands to include casual looks designed to complement a variety of architectural styles, including High-Fashion Farmhouse, Simple Barn, and more.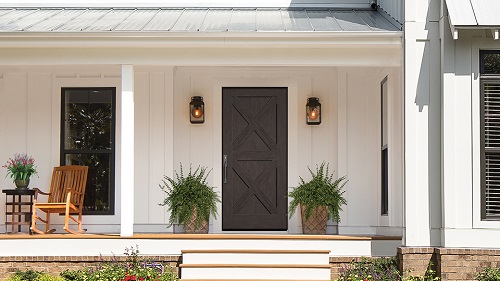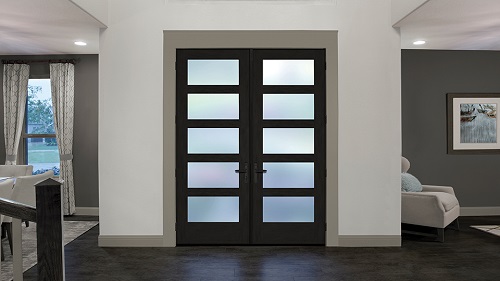 Satin Etch Privacy & Textured Glass for Classic-Craft Premium Entryways
With a pure, simple design aesthetic, Satin Etch glass welcomes natural light into the home while maintaining a high level of privacy. This fine-textured pearlescent glass makes a style statement and is ideal for a wide range of home styles with a modern or contemporary twist, including Mid-Century Modern, Simple Barn, High-Fashion Farmhouse and more.
Simulated Divided Lites for Fiber-Classic, Smooth-Star, Profiles and Traditions Doors
Create an entry tailored to the home's overall look. Simulated divided lites now have endless color and finishing options, thanks to a new durable composite material. Explore new contemporary grid patterns, as well as classic looks, all with limitless color options for paint and stain and approved for use behind storm doors.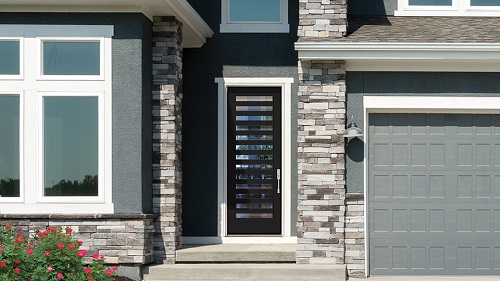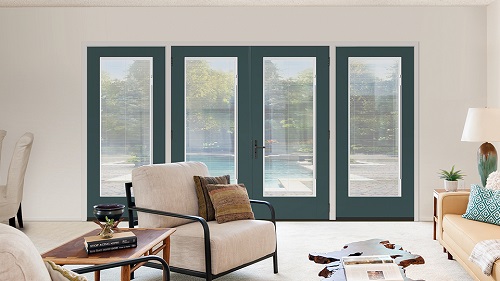 EnLiten Flush-Glazed Internal Blinds for Smooth-Star Doors
Smooth-Star doors with internal blinds featuring EnLiten flush-glazed designs deliver simplicity and convenience with contemporary appeal. Discover attractive, durable entry solutions for around the house, including patio, side and back doors allowing for optimal daylight and outdoor views, or complete privacy.
Therma-Tru Door Surrounds
Add a beautiful, finished look to the entry with stylish, low-maintenance door surrounds from Therma-Tru. Discover a hand-selected assortment designed to complement the architectural details of virtually any home style. Create a cohesive look in the entry with authentic details for enhanced curb appeal.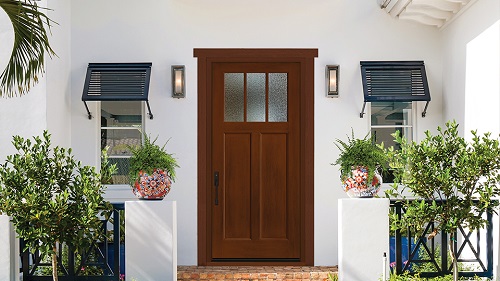 High-Performance Therma-Tru Doors
The front door serves as a focal point for your house or business. Not only must it allow easy access, it's also expected to provide beauty, security, and longevity. That's a lot to expect from a door, but when you choose Therma-Tru doors in Pittsburgh from Window Installation Specialists, you're the recipient of all these benefits and many more.
For more than 45 years, our company has been selling and installing doors and windows at homes and businesses in the area. We use our extensive product knowledge to assist you in choosing the right door for your space, and our certified installers ensure the final product serves you well. Reach out to us for a free, on-site estimate.
Therma-Tru Exterior Doors for Homes & Businesses
As door installation specialists, we recommend Therma-Tru entry doors. This manufacturer turns out high-performance doors made of steel and fiberglass that are known for their beauty and durability. Founded in 1962, the company introduced the fiberglass door in 1983.
We feel confident about installing Therma-Tru doors at your home or business. This manufacturer is respected for innovation and quality. Plus, the doors they make are available in a wide range of colors with options such as decorative glass. This company makes products for both residential and commercial use.
Fiberglass Doors with the Beauty of Wood
Therma-Tru raised the bar on expectations for doors with that first fiberglass door. It had all the advantages of fiberglass with all the appeal of a product that looked just like wood. Wood is and always will be a perennial classic for doors, but with Therma-Tru's fiberglass doors, you have the best of both worlds.
Fiberglass is an ideal material for doors that are handsome, strong, and durable.
The manufacturer offers two collections in wood-look doors – mahogany and oak. Their fiberglass doors realistically mimic the grain and pattern of these wood species and are available in a variety of colors.
As a composite material, fiberglass is made to be sturdy and stable. Because of this, you can expect your Therma-Tru door to guard the entryway to your home or business for many years to come. In fact, these doors come with a limited lifetime warranty from the manufacturer.
With Thema-Tru, you can even design your own door. First, simply choose from a wide selection of options, and then we install your new front door for you. Call our office to make an appointment for a free, on-site estimate.
Questions? Please call Melissa at (724) 446-0275 to discuss Marvin Windows and Doors, and the cost ranges of all your options. Window Installation Specialists of Pittsburgh will also be happy to provide you with a Free On-Site Estimate.
We look forward to speaking with you!