Front Entry Doors for Your Home or Business
Make a great first impression on those who come to your home or business with handsome front entry doors. In Pittsburgh, rely on Window Installation Specialists for sales and service. For more than 45 years, our company has been helping customers find the right doors and windows and offering professional installation services. Ask us to schedule a free, on-site estimate.
Let us show you a varied selection of brands, materials, and styles of doors. Our company provides entry doors from the leading manufacturers to offer you beauty, security, and durability. The right door also adds appeal and value to your property. Our door manufacturers include:
Therma-Tru
Andersen
Marvin
Pella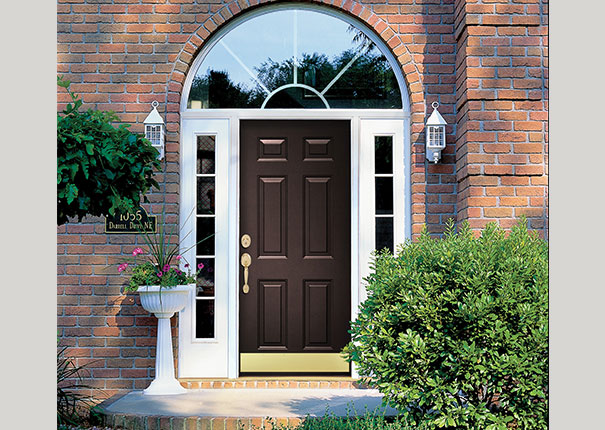 For Doors of Steel or Fiberglass, Choose Therma-Tru
Therma-Tru makes steel and fiberglass doors. This manufacturer started with steel entryway doors when founding the company in 1962. Two decades later, they made their mark by introducing the first fiberglass door on the market. These doors have the beauty of real wood, but provide high-performance benefits, such as durability, water-resistance, and energy-efficiency. Let us show you handsome fiberglass replacement doors for your home or business building.
What to Look for When Buying a Door
Buying a door is a big decision, as there are so many different factors to consider. We are happy to share our expertise with you in making a sound decision. Our door and window company recommend you think about:
Looks – You want a door that works with the style and setting of your home or business. You may prefer a door that's plain and functional or one that's embellished with elements such as decorative glass or windows. Our professionals help you choose the door that's right for you.
Security – In this day and age, you have to think about security. It's important to consider whether that new door protects the people and valuables in your house or the employees, products, and equipment in your business. The design and material have a great deal to do with a door that keeps out unwelcome people and elements.
Weather – Our area experiences weather extremes from sweltering heat and freezing cold to rain, snow, and wind. Your door keeps the elements from getting inside your home or business. We can help you choose a door that provides proper protection from Mother Nature.
Energy-Efficiency – You don't want your energy dollars leaving through the front door. That's why we offer well-made doors with energy-efficiency built into the design and material.
Top Quality Door Manufacturers
Window Installation Specialists of Pittsburgh carries doors from all the leading door manufacturers – Andersen®, Marvin®, Therma-Tru®, Pella®, Simonton® and more. Choose from a wide variety of shapes, styles and sizes to fit most any opening in your home. Gorgeous wood interiors not only can be finished to match your woodwork; they stay looking great with little care. Or choose fiberglass doors that feature all the benefits of a wood door. Built with a solid polyurethane core, our doors offers five times the insulation value of wood and won't rot, crack, or split like real wood. Or select from the industry's most comprehensive collection of aluminum-clad doors for your home.